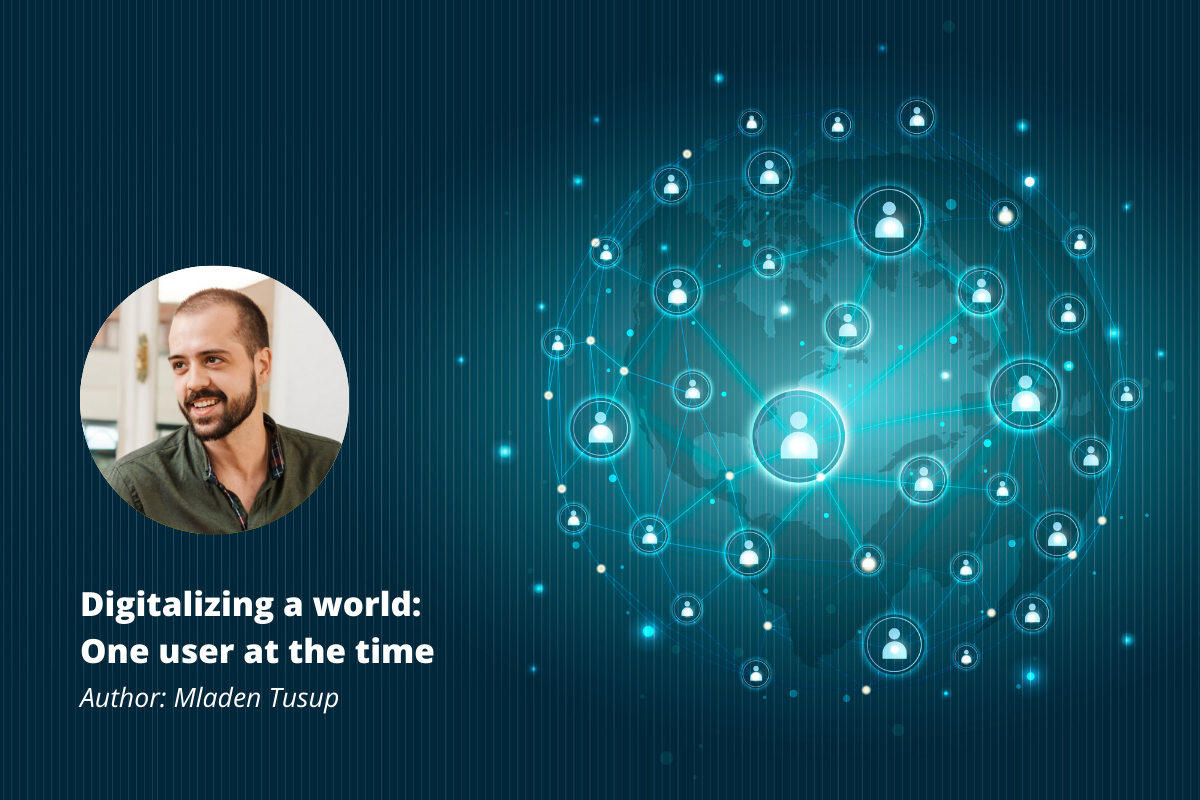 Digitalizing the world:
One user at a time
Are you tired of waiting in lines or feeling insecure about sharing your personal information online?
If so, read on.
What this article is about
My name is Mladen Tusup and I work as a Software Team Lead at our company. My primary focus is on our Blinking Identify product, which is going to be the main topic of this article, alongside its benefits in real life.
If, by the end of reading this, you ask yourself "Wait, isn't this how things are supposed to work?", you will be joining millions of people that feel the same way. 
The problem we are facing
One of the most common bottlenecks for the end user is waiting in line, regardless of the type of product or service you are waiting for. Whether it be waiting at your bank branch or your telephone operator, the end result is the same, you lose countless hours yearly solely on waiting in long lines in order to provide your data to obtain a service. This is usually predominant when trying to access products or services that require you to prove your identity and require you to be there physically in order to do so.
The other side of the problem is the data ownership problem. We share our personal information all over the internet and in real life, with little to no information about how companies are taking care of that data. It's usually shared, sold or distributed among companies and it's increasingly difficult to keep track. Identity fraud is rapidly becoming one of the main types of online fraud. In 2020 alone, it's estimated that more than $56bn have been lost to identity theft.
Current practices are flawed and outdated. In this day and age, with the technological advancements that are happening on a daily basis, businesses need to do better. A truly digital transformation is not a question of if, rather than when.
The (most logical) solution?
If there is anything that the COVID-19 pandemic taught us, it's that remote is fine. We can work from anywhere, organize our time to our liking and maybe even focus on more important things besides work with the extra time. This is where things get complicated. If we don't leave our homes, how do we go on about our regular lives and conduct our usual activities, some of which have traditionally been rigid when it comes to proving our identity or providing our personal data?
We need to put our trust in technology. What we are able to do today might have seemed impossible a couple of years or decades ago, but whether we like it or not, technology is shaping our lives. Time spent on the internet is increasing every single day, with billions of people sharing their information online. This information is, often without our consent, shared and distributed between companies for various reasons. The GDPR (General Data Protection Regulation) law that's been introduced and enforced in the past couple of years has made a significant change in how companies look at and handle sensitive information of their customers. This has opened up a huge opportunity for companies such as ours, which deal with handling sensitive information on a daily basis. 
How to (truly) transform traditional businesses?
By providing users with a superior service which they will be expecting and requesting of their service providers. The only way to make a significant change towards a digitalized society is to introduce these changes into as many aspects of our daily lives.
Mapping out traditional business processes into the digital world is no easy feat. These processes are usually documentation heavy, dependent on claim processing, legacy and third party systems.. you name it. Taking out a credit card or opening up a bank account should be a hard and lengthy process, right? I'd argue it is just something that we have become accustomed to.
What we provide for businesses is a way to digitally onboard and confirm user information, without them ever needing to make a presence at the place of business. This applies to many markets, from bank transactions, doctors appointments, betting industries, insurance claims, travel agencies, financial systems… the list goes on. We make the process seamless, secure and fast, by proving a person's identity through digital channels so that the business can rest assured that the person is who they say they are, all the while reaching far greater user conversion.
For the end user, we significantly shorten the time period between the application for a specific service and actually using it. We also provide peace of mind since the whole process is in accordance with the highest security recommendations. The end user can be certain that their data is used for the right purpose.
Read on to find out how we do it.
The process
The most important step in the process is willingness for change (on the business side).
After a need for digitization is recognised, the next step is to map out the complete user journey the user would go through in the current traditional model of accessing a service. This includes looking at all of the documentation the user needs to fill out, seeing if there is room for improvement and what's the best way to go about making a superior user experience. 
Once the process is mapped out, we can do what we do best, provide a personalized experience for every business. The flexibility we offer is unparalleled compared to other businesses that provide similar services.
Let's look at an example: You wish to open a bank account at your desired bank.
The user journey is (usually) as follows:
You visit a bank branch. Most probably, spend some time waiting in line for your turn.

After reaching a bank teller, you state that you wish to open a bank account.

You provide them with your personal information, personal documents, salary information, employment history… They need to verify some of the information on the spot. The process requires you to fill out a lot of forms as well.

If you forgot a certain document that is needed for the application process, you have to pause the process and return for a second time in order to finish.

After submitting the request, you usually need to wait a couple of business days. Commonly, external systems are included in the process, such as the credit bureau or the ministry of police affairs in order for background checks to pass.

Finally, you are able to deposit and withdraw money and use the service.
This process is inherently flawed. Waiting in line, possible multiple trips, waiting on background processes.. All of these amount to a lot of time lost and possible frustration for the end user. If you wish to open another bank account with a different bank, the process starts all over again.
What companies are now seeing as an opportunity, especially in the post pandemic world, is digitizing these processes. More and more companies are preparing themselves for reaching, onboarding and converting users online in order to fill the market needs. 
The technology
My coworker, Pavle Milosevic, touched upon many of the aspects of the technology we use in this process in a previous article. I highly advise that you read that post as well.
Using OCR (Optical Character Recognition) technology, Artificial intelligence, Machine learning, Biometrics and other state of the art technologies, we are able to leverage the power of technology in order to prove real identities behind the data the user provides. 
The user provides images of their document which are screened for all necessary parameters the document needs to possess based on the issuing country. These include key elements of the document, borders, colors, textures, data validation and others. Our anti-fraud module allows for capturing and flagging fraudulent behavior so a live person can double check the documents and the data provided if necessary. The user is often also required to provide a selfie, at which point their faceprint is matched to the faceprint on the government-issued personal document. We can also verify acquired data with external services such as Citizen registries, Ministry of police affairs, Credit bureau.. automatically. This significantly shortens the identity verification process, while also making it safer. 
We are able to automatize much of the bottlenecks of the traditional process and shorten, but still improve the experience of the end user. This also provides companies with ease of mind, fulfilling KYC and GDPR requirements, compliance regulations etc.
If the business requires, they can also use the biometric data provided in the process for authentication purposes for users when returning to the service.
Why is this important?
In the bank account example above, I mentioned that you would probably have to go through the same process in order to open a bank account in a different bank. Using other services is no different, and you would have to provide your information time and time again.
Wouldn't it be great to have one business verify your identity and then give control over that data to you so you can share it with whom you desire with a click of a button? 
True digitization lies in the creation of a digital identity, one which you control. You have complete control over the data that is acquired, have knowledge of who, when and why used your data. Since a trusted source (the business that conducted your Identity Verification) has confirmed your identity, you can share said personal information when accessing new services and get access to them in just a few clicks, since businesses already know who they are dealing with. This identity represents a digital version of you, which you can maintain, update, share information or restrict access to it.
As you can imagine, this opens up a whole new level of customer experience and business models. Find more information about our other product, Blinking Verify, and how it can help to lead this transformation.
Conclusion
The online world is changing fast. In order to attract new customers, businesses need to provide seamless, quick and secure processes to onboard users and verify their identity online. The sector is poised to grow by more than 300% to 3.8 billion identity verification checks by 2026. 
On the other hand, identity fraud is becoming more and more sophisticated and the technological solutions need to keep up with the bad guys.
By providing users with a secure, customized online experience, one that takes less time and provides ease of mind, we can set an example of what a user journey should look like, while providing businesses with reduced costs and quicker user acquisition than ever before.
It is with enthusiasm that we approach the problems the modern society is facing and look forward to playing our part in shaping the future of identity verification and digital identities.
 Javelin Research: Digital Identity ~ Realising Critical Opportunities

https://www.goodeintelligence.com/report/identity-verification-idv-market-technology-analysis-forecasts-2021-2026/