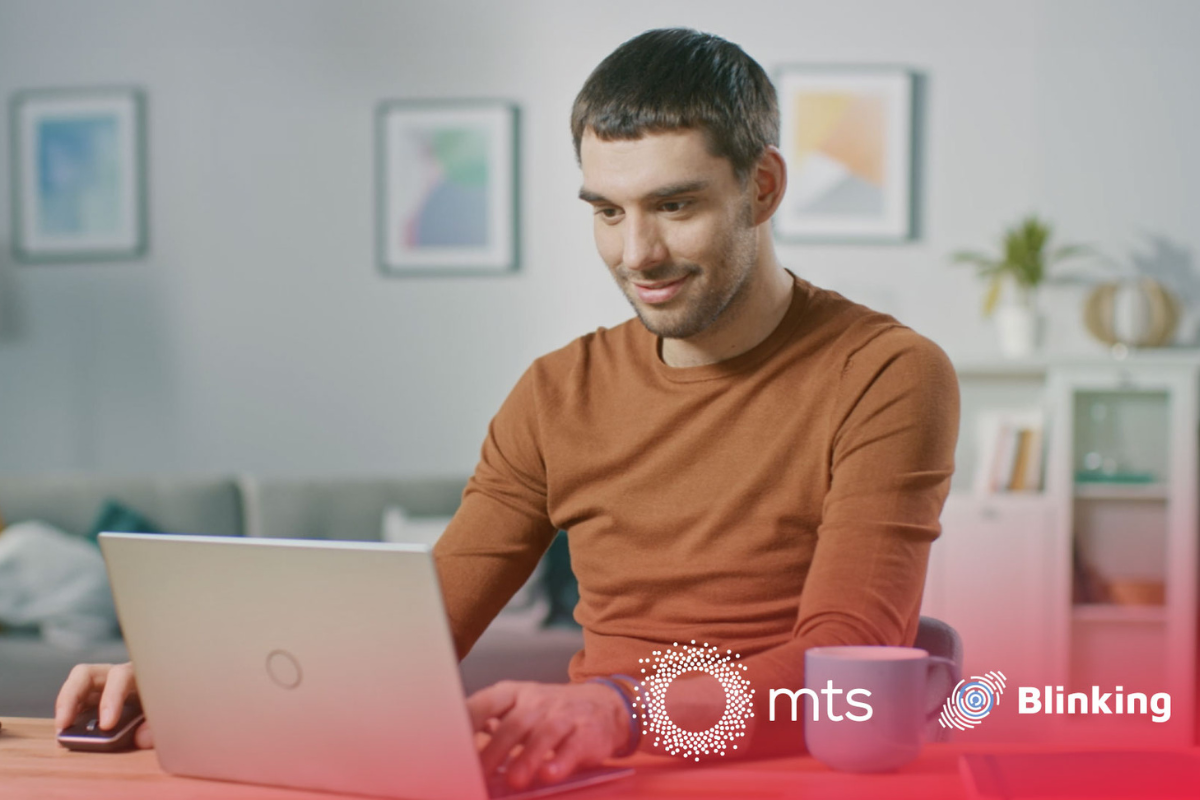 mts FIRST OPERATOR IN SERBIA TO INTRODUCE DIGITAL ONBOARDING AND VIDEO IDENTIFICATION
In accordance with the strategic determination to be a reliable partner in the digital world without borders, mts has made certain services significantly more accessible to its customers using the service for digital confirmation of personal identity, with an outstanding user experience. The Digital Onboarding and Video Identification service, developed in cooperation with the domestic company Blinking, is now available to all customers via the mts.rs platform, the Selfcare portal and the My mts mobile application.
The first services that will be able to be implemented in this way are Prepaid Number Registration, My mts Account Unblocking and Customer Personal Data Update. For prepaid customers, this news can be particularly significant, since it was announced that starting next year, registration of a prepaid number will be mandatory.
The identification process consists of two connected parts – digital onboarding in which the user scans a personal document (identity card or passport), takes a photo of the face, enters address and contact information, as well as video identification, i.e. a conversation with a video operator to confirm the customer's identity. After identity confirmation, the request is completed and the customer is notified by email. The procedure itself is simple, intuitive and takes only a few minutes, without going to the service provider site.
"Telekom Srbija always strives to provide its customers with a complete digital experience, so this time, in cooperation with partners from the company Blinking, it has developed a video identification service that allows them to identify themselves online, without going to a branch. Since in the coming period it will be necessary to register all unregistered prepaid numbers, we wanted to help customers to do this quickly and easily, which is the meaning of digital services. In addition to registering a prepaid number, our customers will be able to use the new service in the first phase to update their personal data and request the unblocking of my mts account," said Ana Komnenović, Director of the Department for Development of Digital Channels, Digital Platforms and Services of Telekom Serbia.
The partnership with Blinking enables customers to verify and confirm their identity completely online, significantly improving the user experience. The process takes only a few minutes, and the customer can complete it from any location, at any time – all they need is a device with a camera and internet access.
"The introduction of our solution into Telekom Srbija's service offer ensures a quick, simple and secure process of customer identity verification through online channels," said Miloš Milovanović, co-founder and COO at Blinking. "I am sure that this partnership will result in an increase in customer satisfaction, a reduction in the risk of fraud and an improvement in the efficiency of Telekom Srbija's operations." Also, I expect that the Blinking Identify solution will soon become a standard in the telecommunications industry," he added.
It is expected that the number of services that can be implemented in this innovative way will be expanded in the future.
Source: