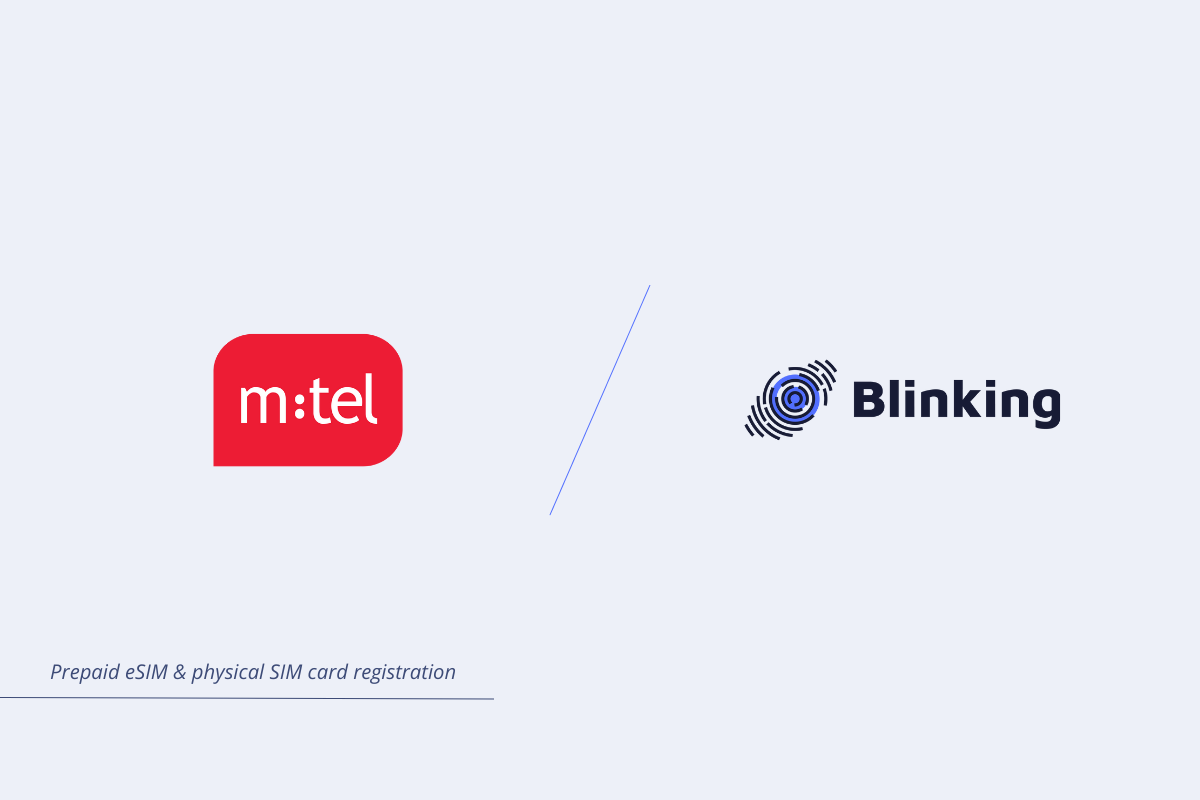 MTEL and Blinking – Open door of innovative cooperation
It is our great pleasure to announce the beginning of cooperation with MTEL, a renowned provider of telecommunications services.
MTEL has been operating in Montenegro since 2007, with a strong focus on user experience, quality service and commitment to innovation. Based on many years of experience and listening to the needs of customers, MTEL is constantly modernizing its operations and improving digital channels.
Considering the above, MTEL has chosen Blinking as a reliable partner for digital customer onboarding. Blinking Identify, a KYC (know-your-customer) solution, allows MTEL to easily verify and confirm the identity of its customers completely online, thereby reducing the risk of fraudulent actions and greatly improving the user experience.
The first products available to customers are:
Prepaid eSIM registration
Prepaid physical SIM card registration
The partnership between MTEL and Blinking aims to provide customers with a fast, simple and intuitive process of purchasing and activating an eSIM/SIM card through a digital platform. The service is available both to citizens of Montenegro and to tourists coming from around the world.
Speaking about the product "Prepaid eSIM Registration" – the entire purchase and activation process is completed in a few clicks. Instead of customers going to a branch and waiting in queue, they can now confirm their identity and activate services in a simple way, through online channels. Also, the mentioned method facilitates the arrival of tourists at their destination and allows them to immediately use all the benefits of mobile telephony services.
As for the second product, "Prepaid physical SIM card registration" – the customer can buy the card at one of the available physical locations, such as airport, kiosk, branch, while registration and activation of the card can be accessed by scanning the QR code on the box.
The process of registering and activating a prepaid number takes about 60 seconds and is fully automated. The customer is required to verify his email address, take a photo of his personal identification document (ID card or passport), enter his address and confirm his identity through biometric face verification.

Image 1: Registration process steps
"With the continuous improvement of network and infrastructure, I would highlight the innovative and reliable online services as a key factor for success and customer satisfaction. We are glad that MTEL recognized the importance of implementing solutions for digital onboarding, and the decision to partner with our company allows them to integrate innovative technologies into their system, providing a more efficient and safer service to their customers," said Miroslav Minović, co-founder and CTO at Blinking, adding that the partnership between MTEL and Blinking represents a big step towards the improvement of telecommunications services in the region.
"By integrating with the Blinking service for online customer identification, we introduced an innovative, efficient and, we must emphasize, very advanced service to the market. By introducing online customer registration, we have stepped into a completely new sphere in the digitalization of the sales process. We have shown readiness in all segments at the corporate level to ensure that our customers can reach the desired service in a very simple way using only digital channels. For now, it is eSIM purchase or SIM prepaid card registration, while the potential is significantly wider. The company MTEL will continue with the implementation of further plans for leadership in digital transformation," said Zoran Milovanović, special advisor to the executive director of MTEL.
Director of the Technical Department of MTEL, Goran Nastić, pointed out: "By introducing the Blinking service, MTEL expanded its portfolio of digital services and continued with the practice of launching modern services. We are especially glad that our IT engineers made a great contribution to the design and development of the service. The most important thing is that the biggest benefit from the release of this service will be directly to the end users, because in this way we save their precious resources time and money."