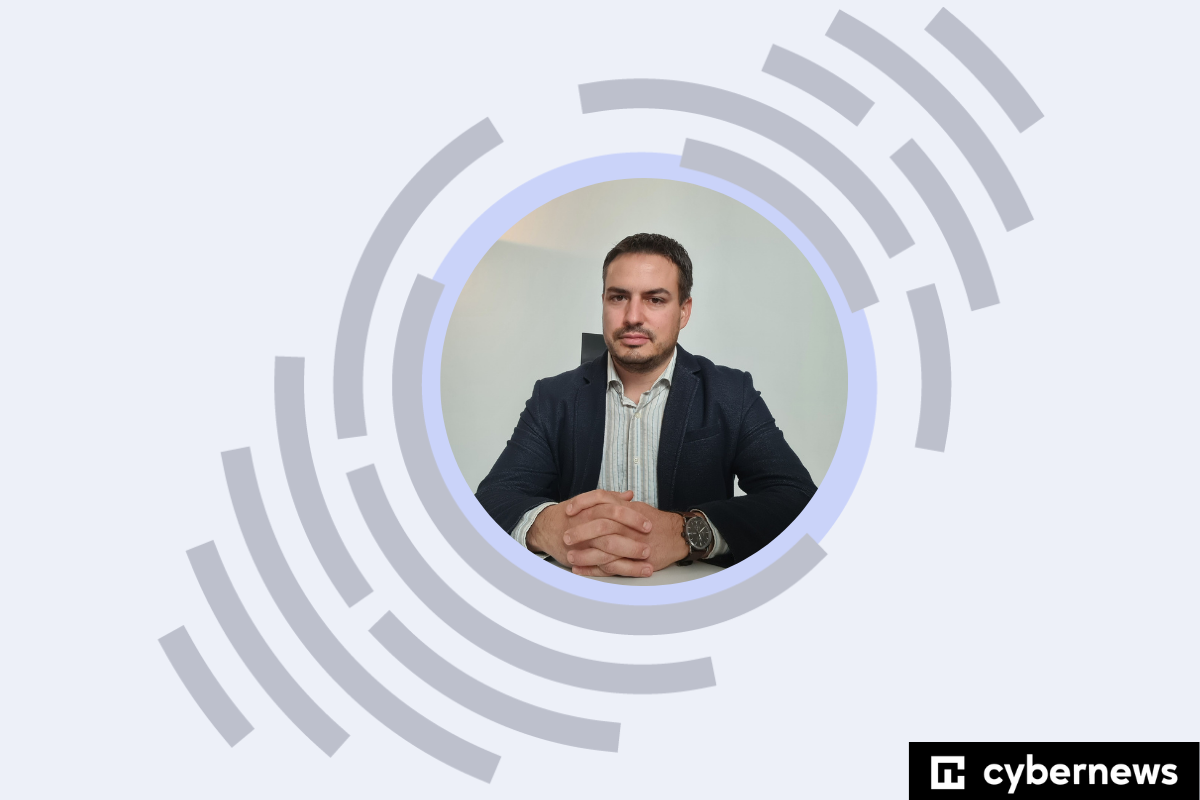 Milos Milovanovic, Blinking:
"People tend to look at digital interactions without understanding possible repercussions"
Digital identities have become an attractive target for cybercriminals. Whether it results in financial gains for the cyber felon or reputational damage for the company, the consequences can be detrimental to a business.
For cybercriminals, stealing an identity doesn't require too much effort. And although there is often misconceptions that only large enterprises are at stake, cyber felons don't discriminate – anyone can become a target. That's why each individual must responsibly take care of his online safety.
These days, browsing on your Mac with an IP address uncovered is not the only possible danger in cyberspace. Yet, members of society still tend to expose their private information to unauthorized websites without evaluating the consequences.
So, to learn why essential it is to protect your online identity, we interviewed Milos Milovanovic, the CEO and Co-Founder of Blinking – a software development company that specializes in digital identity. He will introduce us to digital identity verification measures and best ways to prevent online threats.
How did Blinking originate? What would you consider the biggest milestones throughout the decades?
The concept for Blinking arose from a simple desire to change the market and better the current condition. As users, we wondered when the lines in front of the branches would disappear and when we would be able to perform tasks with a single click, without having to go to the branches, entirely online. I'd want to emphasize that we founded Blinking at the end of 2017, long before the pandemic that accelerated and conditioned this style of conducting business. Miroslav Minovic, my Co-Founder, and I are both university professors and researchers in the field of digital identity.
We wanted to keep developing biometrics so that society could take this vital step toward online business and the numerous benefits it delivers to both businesses and individuals. The only missing link was how to validate someone's identification in the Internet world in a secure, quick, and user-friendly manner. We gathered an expert team and began developing a software solution that, in just a few minutes, checks and verifies the identity of the user, allowing them to access the service or product completely online, without having to go to branches or spend time and money overcoming the old offline method of doing business.
Our concept was market-driven, and everything else fell into place as we worked on producing our Blinking IDentify solution.
Can you tell us about what you do? What industries do you mostly work with?
We unlock companies' potential by onboarding their clients remotely. In just a few easy steps Blinking verifies the identity of each user with their biometric document, ID card, or passport, then verifies them with a selfie. When the process is complete the user has a verified digital identity and can further use it online to buy or render services and products. Our users do not need any technical skills; all they need is access to the Internet, a mobile phone, or a laptop. On the other side, we assist businesses to realize their full commercial potential and accomplish results by rapidly acquiring new consumers, improving service to existing ones, and freeing up internal resources to perform new functions.
The entire procedure is paperless, and all paperwork may be signed remotely. Onboarding is designed on a turnkey basis to meet the specific demands of each business. In addition to having a technologically sophisticated solution in comparison to the worldwide competition, our integration process is quite rapid, and depending on the design complexity we determine with each client individually, the system may be in production in a matter of months. Each company may decrease internal expenses by up to 60% and shorten the client acquisition process by up to 80% in only a few months.
By automating the process with our Blinking IDentify technology, businesses may grow their client base while lowering expenses and optimizing business operations. Aside from digitizing product catalogs and transitioning to an online environment, an obligatory KYC check is in place to eliminate possibly fraudulent consumers and so secure the company's revenue.
Blinking operates globally, with clients in North America (Canada), Switzerland, the United Kingdom, and the EU region – Malta, Cyprus, Greece, Bulgaria, Slovenia, and Croatia – but with a stronghold on our region of origin, where we are present in Serbia, Montenegro, Bosnia, and Herzegovina, and Northern Macedonia. The ambition is to become a significant participant in the global ecosystem by establishing a dominant position in the European market.
You operate based on a privacy-by-design principle. Would you like to share more about your vision?
No matter what industry you work in, there are always regulatory constraints that require you to get to know the customer thoroughly. This frequently necessitates actual interaction, a big number of outlets, processing charges, and a huge amount of paperwork. Everything is simpler to standardize thanks to the suitable support systems that we have established as a firm.
When it comes to digital identity, personal identification is transferred to the digital world, overcoming problems such as numerous abuses of user privacy and data protection, but also guaranteeing the trustworthiness of companies that collaborate with a person that his data is protected. Within these constraints, we've developed software and hardware solutions that transmit our identity to the digital world and enable subjects in a business collaboration to be dependable, secure, and the entire process transparent.
As proven by multiple awards and patents, we are committed to innovation. The United States Patent and Trademark Office (USPTO) has granted us a patent for the Authentication Method For A Client Over A Network, for a new technique that is groundbreaking. Our invention enables the creation of digital identity in a distributed or blockchain context. The most critical component is to safeguard sensitive data.
How do you think the pandemic affected your field of work? Were there any new challenges?
The pandemic has alienated people and mostly directed them toward online interaction, which has raised interest in our company's services and products. On the other hand, a pandemic is damaging to the economy as a whole, and to provide services to large sectors, growth is required. We would prefer to operate in stable economic conditions with traditional economic flows, but as a result of the pandemic's ecosystem disruption, we are rapidly expanding, acquiring new clients, and are present in a variety of industries, including telecommunications, banking, and finance, e-commerce, brokers, and online gambling. We empower our clients with access to new markets and clientele who would not have previously considered doing business with them.
What best practices can companies adopt to minimize the risk of identity-related attacks?
This topic must be approached from two different perspectives. First is organizational, and each company must have ironclad procedures and policies set in place to protect the identity of its customers. People tend to be a weak link in the control chain. As an addition, companies can rely on additional support from artificial intelligence and advanced systems to verify and confirm the actual identity of their customers. Only in unison people and technology can be effective against threats in this area.
As for personal use, what actions can average individuals take to protect their identity online?
People need to be aware that their identity is firstly their concern. They must be informed and should research the other party they are in online interaction with. They should use the technology available to protect their personal information. Only proven solutions should be used that properly address data management and leave control in the hands of their users. Besides that, they should be careful and use the simple rule of not providing any data that is not necessary for a transaction and they should not be shy to ask for a reason for data acquisition. If possible they should use trusted gateways to supply information needed for a transaction, such as virtual payment cards through digital banks.
Since digital identity is a relatively new technology, people still tend to have some misconceptions and myths regarding it. Which ones do you notice most often?
Usually, the biggest misconception is that digital identity is not as important to protect as actual identity. People tend to look at digital interactions without comprehension of possible repercussions.
The second noticeable thing is they tend to expect that in online interactions they have the right to be fully anonymous. This is often not the case. It is similar to real-life conditions, you have the right to anonymity to an extent that is in line with regulations. But, opening an account or even placing a bet with a sports betting platform is not something that can be done anonymously, since legislation requires prevention of fraud, money laundering but also there are some tax-related requirements.
What security issues do you think will arise in the near future as digital identity becomes a significant part of our lives?
One of the biggest threats to next-generation digital identity is the very best thing about it. The fact that important information about each person will be available in digital form for potential online interaction. This is something that will become a golden city that every somewhat computer literate hacker will try to find and claim. That means that we need to constantly work on finding the best mechanisms to protect what's an important and secure online exchange of this information. That should not discourage but be a strong warning for the community working on the advancement of digital identity. Benefits we get from having a true digital identity give us the right to keep pursuing that goal despite possible threats that in turn, we must be aware of at all times.
Would you like to share what's next for Blinking?
Blinking is growing its customer base but is also in the process of releasing a next-generation digital wallet. Currently, we are certifying our technology to be compliant with eIDAS and to be used in the Trusted Service industry. It will be the first technology for cloud signatures that will enable the use of biometrics for signature activation. Also for the first time industries will be able to tailor user experience according to the need of specific interaction (for example do small payments with a device pin but require some biometrics for larger transactions). Exciting times ahead.