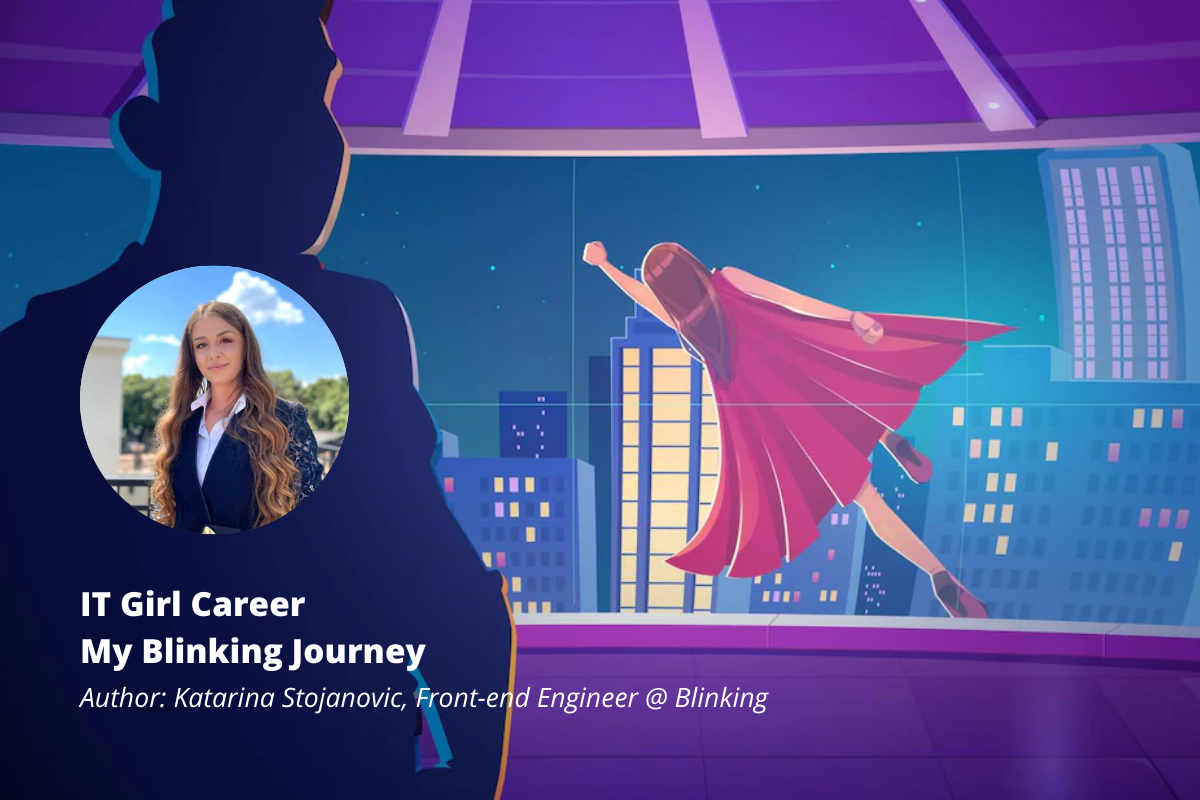 IT Girl Career:
My Blinking Journey
Hello everyone! My name is Katarina Stojanovic and I work as a Front-end Engineer at Blinking. My responsibilities are to plan, build and implement the user interface systems of web-based applications. The main goal of my job is to provide a exceptional user experience.
We all know that Women's Day is celebrated on March 8. but how many of us are aware of the fact that International Girls in ICT Day is celebrated every fourth Thursday in April? 28 April, International Girls in ICT Day, established by ITU and celebrated in over 150 countries around the world, celebrates girls and young women and encourages them to pursue studies and careers in the technology sector through training in coding, development of mobile applications and IT. [1] Next question is how many girls do we know who are involved in coding, web application development, websites or mobile applications? Let us be honest, when we imagine a typical IT person it is usually a man. But, why is that so? Let's try to find a cause and a reason for this convention 🙂
Identifying barriers: How to disrupt the current state of affairs?
From an early age, when our personality, attitudes and beliefs are formed, we can say that some stereotypes are created also. We envisioned the boys as engineers while girls were seen as doctors or teachers. Despite the  great development of society, these stereotypes are still here and they often represent a hidden obstacle to girls deciding to start an IT profession. Based on research, only 16,5% of the female population opts for this type of profession and one of the main factors contributing to the under-representation of women in science and engineering are social and environmental factors. [2].
SOURCE: U.S. Bureau of Labor Statistics, "Employed persons by detailed occupation, sex, race, and Hispanic or Latino ethnicity," Labor Force Statistics from the Current Population Survey, Table 11, 2020.
What are the main influences on professional orientation?
Bear with me as I try to identify key factors that affect girls' decisions to participate in IT business.
The graphic above presents the factors that influence the decision about the profession most:
Families, Communities and Role Models
Peer Influences
Media and Popular Culture
Formal and Informal Education
Families, communities, and role models play a significant role in girls' and boys' decisions about education and career. From the time we grow up, many of our thoughts and attitudes are influenced by our families and the people around us. Mostly, what we are focused on as children will later contribute to our interest in life. It is highly likely that we will naturally be inclined to learn more If someone from our environment is interested in computer science or works in this line of business. Also, one of the important factors at that time is the interests of our peers. Nowadays peer influence mostly comes from social media and its content which is the most intrusive part of the problem as there are very few influencing girls to look up to in the tech segment.
Can self-confidence be built?
Girls as well as boys should be more encouraged to get acquainted with the digital world, of course if they show an affinity for this area. Self-confidence is an obstacle that prevents girls from entering the tech world more often. What is the best way to gain self-confidence? Knowledge. First of all, it all starts with curiosity and desire for knowledge. In the era of technology, there are so many sources from which we can learn from about everything and anything that interests us. Only knowledge can remove prejudices and gain enough self-confidence to do any job. In addition to formal education, which, in my opinion, is very important, there are also informal ways to learn more, which includes courses, various workshops and projects. All this brings us a new experience and can help change things.
The outer ring depicts all of the people who need to be involved for effective, systemic change to occur. The outer shapes surrounding the center indicate the key areas where change is needed in order to make existing conditions around gender and computing more inclusive for girls. Change in these areas will ultimately also affect girls' perceptions, interests, confidence, and reasons for choosing a career and start doing and exploring new areas.
Why not right now? -> Why not right now!
My IT professional beginning was at  Blinking. How did that come about? While still in my undergraduate studies at the Faculty of Organizational Sciences, I got the opportunity to become a Blinking Internship team member. As at that time I still hadn't finished all the exams in college, I immediately started looking for reasons why now is not the right time for such a step. People tend to have a fear of the unknown, a new environment, a fear of not knowing enough and I must admit I'm one of "the people":) However, my question is why not right now? turn into why not right now! Why do we always have to look for reasons and excuses why not to do or choose something? Instead, I tried to find reasons why it would be good for me and my professional development to accept such an offer and, at the same time, finish the faculty.
That sounded challenging.
I've heard about the Blinking before, but then I started to investigate, in more detail, what is the line of their business. The first thing I came across when I entered the site was Simple & Secure Identity Verification. Identity verification… I must say that I was intrigued by what was behind it and I had a strong desire to find out how it all works in practice.
In addition to the fact that the IT fields that the firm deals with have attracted my attention, there are also technologies that interested me even during college, more precisely the front-end side. Another thing that was crucial to me was the team, which is fantastic. I knew some colleagues from college, while I met others when I started working. At first only three things pros but quite enough to decide to start my Blinking journey!
My IT journey in the Blinking company
My experience began in May 2019. That's when I started working through an internship program at Blinking. Blinking helps companies Identify, Verify and Certify their users. Our platform offers a reliable and seamless way to confirm users' identity, and all of this using the most advanced technologies.
In addition to the many technologies that Blinking offers, I chose to advance more about  Angular. The front end has always been in my interest and focus  and a bit of a challenge  for me. What I especially like is that by doing front end I can express my creativity. At Blinking I was given a complete freedom to express my ideas and develop them. Also,the work I do in the field of research when it comes to user experience is both challenging and super fun. To customize the user interface to be intuitive and simple to use, as well as to follow the latest trends in visual representation gives me the chance to develop and perfect my professional skills. I have always been particularly attracted to aesthetics, which turned out to be ideal in conjunction with my desire to do the front-end. Everything that can be imagined can be implemented, it's just a question of how, and there are many ways.
Blinking's internship and mentoring program
And at the very beginning, while I was working as a scholar, the help of a mentor on how to choose the way I would do something meant a lot to me. What should be my guidelines, code optimization, performances. Everything has it's why. The great thing about this company is that it gives me the opportunity to learn a lot, to work as a scholar on an internal project where I learned more about the technologies that I am interested in and I had the opportunity to apply what I learned on my first project. Also, I had my own mentor who followed development in more detail. Mentor gave me guidelines and tips, worked together with me and we made plans together on what the next steps should be. This meant a lot to me so I could keep track of my progress and learn how to do some things better. Through that internship program, I was sure that I wanted to work at Blinking and do front-end technologies. Our company and culture we are building  makes this a great place for further learning and development, primarily because of the great people who know a lot and are experts in their fields. So, I started working here as a Software Engineer 🙂
The transition from the internship program was very pleasant. What is most different now is that I am able to apply the knowledge and experience I had gained to the company's active projects. The projects are diverse, and the field of digital identity has become more and more interesting to me. Each of the  web-based solutions for different purposes (fully remote customer onboarding or user registration, video identification…) that I worked on brought me new knowledge and I learned some new approaches. This is what fulfills me and every task that is solved further motivates me to learn and progress even more. In addition, I am motivated by people from whom I have learned a lot and from whom I learn every day. What is certain is that there are no boundaries with a team like this. We are all provided with equal opportunities here at Blinking.
Conclusion
Sometimes we cannot change the circumstances that affect us in professional development, but we can certainly develop our interests, desires and inner feelings. I believe that everyone should be empowered to follow their goals, because, after all, our profession has an immense effect on us as we invest most of our time in it for the best part of our lives . Considering all the above, if you think that IT is for you, there is no reason not to try it. So one thing is for sure – the path to success and fulfillment depends primarily on ourselves.
The gender imbalance in technology doesn't just represent a missed opportunity for women and society, but also for businesses. There's a growing body of evidence – supported by everyday experience in organizations across the country – that having a more diverse workforce, including an equitable gender balance, makes for a better business. This reflects the wide range of benefits that flow from workplace diversity, ranging from the ability to engage customers more effectively by mirroring wider society, to enhanced abilities in areas where women are especially strong, such as problem-solving and emotional intelligence. [5] What I am especially glad about is that IT is being promoted in primary schools, which is more and more present so that children from an early age can have an insight as well.
Finally, I would like to encourage all girls to work hard, constantly learn and come to new knowledge, to be open, creative and persistent and if you want IT – go for IT! 🙂
Links:
[1]https://en.unesco.org/news/international-girls-ict-day-importance-mobile-applications-female-leadership-and-female#:~:text=28%20April%2C%20International%20Girls%20in,of%20mobile%20applications%20and%20IT
[2]https://www.aauw.org/app/uploads/2020/03/why-so-few-research.pdf
[3]https://www.aauw.org/resources/research/the-stem-gap/
[4]https://www.ncgs.org/wp-content/uploads/2017/11/Girls-in-IT-The-Facts.pdf
[5]https://www.pwc.co.uk/women-in-technology/women-in-tech-report.pdf