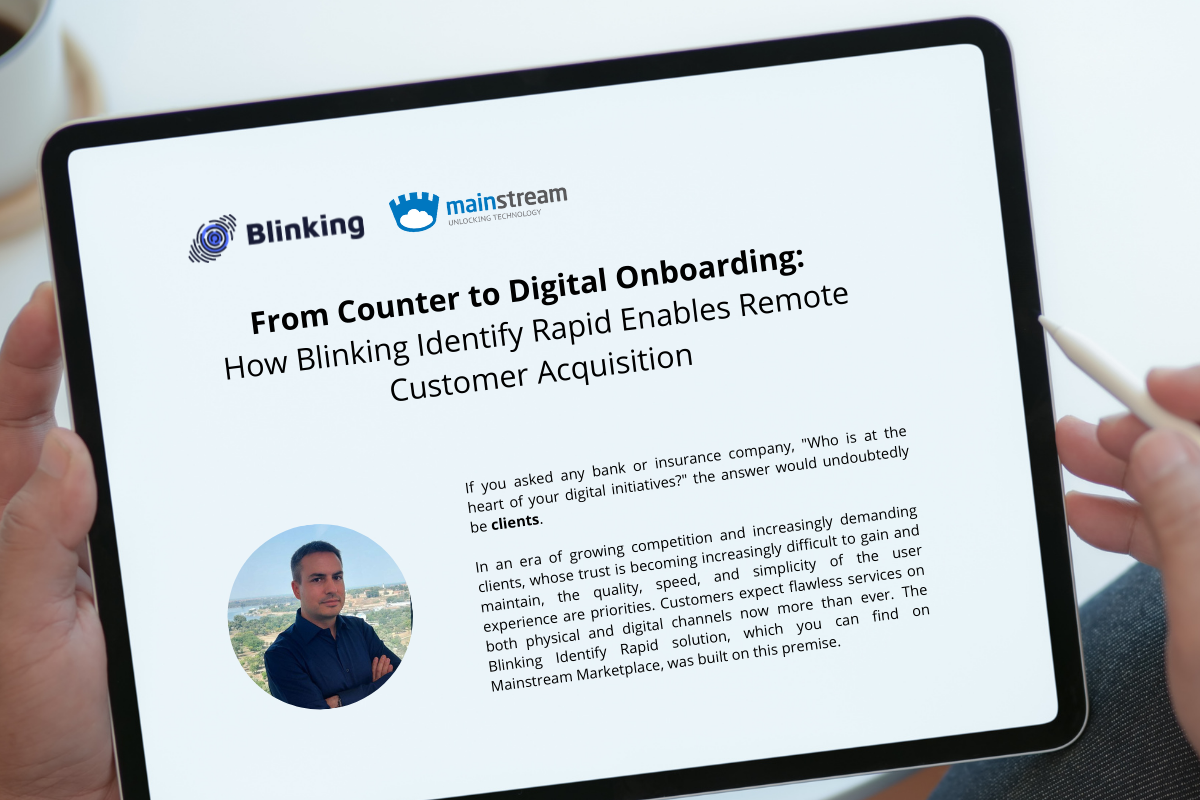 From Counter to Digital Onboarding:
How Blinking Identify Rapid Enables Remote Customer Acquisition
If you asked any bank or insurance company, "Who is at the heart of your digital initiatives?" the answer would undoubtedly be clients. 
In an era of growing competition and increasingly demanding clients, whose trust is becoming increasingly difficult to gain and maintain, the quality, speed, and simplicity of the user experience are priorities. Customers expect flawless services on both physical and digital channels now more than ever. The Blinking Identify Rapid solution, which you can find on Mainstream Marketplace, was built on this premise.  
How does Blinking Identify Rapid help companies move their entire customer acquisition process from the physical to the digital world and improve the customer experience in a way that saves time and resources while not compromising regulatory compliance? We sought answers to this and numerous other questions from the sphere of digital onboarding and identity verification in a conversation with Miloš Milovanović, Co-founder and COO at Blinking.
What kind of problems and challenges does your solution solve and which companies is it primarily intended for?
The Blinking Identify Rapid solution provides businesses with a channel for completely online customer acquisition. Companies can use our solution to identify existing and potential customers, collect all necessary information from them, inform them about important aspects of cooperation, create contractual documentation, and finally sign the contract remotely. 
The solution is intended for all regulated industries that are required to know their customers and sign a contract with them. These are primarily financial institutions, such as banks or payment institutions, followed by insurance companies, telecommunications operators, but also gaming industry, brokerage houses, e-commerce companies, and many others.
What are the main advantages of the Identify Rapid solution from a technological and business perspective? 
Above all, our solution enables the digital transformation of the customer acquisition process. The customer has quick and easy access to services from the comfort of his own home, while the service provider significantly reduces the procedure's costs. The system performs all important checks and reads data from documents using artificial intelligence, making the entire experience very simple for the customer and saving him valuable time because the process is completed in just a few clicks. All data is stored in electronic form, including contracts signed electronically, which significantly reduces paperwork while also benefiting the environment. 
On the business side, the location of the customer is no longer a deciding factor. In other words, all that is required is that the customer has Internet access, and the service is available at any time and from any location. This transformed acquisition process allows service providers to enter previously inaccessible markets and significantly expand their existing customer base via digital channels.
Today, digitization is key to business improvement (some would say survival) of every company. How does Blinking support digitization?
By applying the Blinking Identify Rapid solution, business processes are automated. Data is collected and stored in electronic form, which allows for adequate protection and to prevent their misuse. 
Our primary concern is the protection of  personal data. In all product development processes, we begin with the data life cycle and how to protect it as much as possible throughout the process. We achieve an extremely high level of security by utilizing advanced encryption techniques as well as data isolation.
How does Blinking Identify Rapid use artificial intelligence to simplify and accelerate the customer acquisition process? 
A complex approach was used during the development of the Blinking Identify Rapid solution, which combines artificial intelligence algorithms to solve various problems – from the identification of objects and people on video, to the detection of faces and elements that make up personal documents, via biometric analysis and text recognition, to the verification of authenticity itself photos, documents on them, as well as the identity of the person being identified.
Different dedicated artificial intelligence models were used for each of the aforementioned problems. Fortunately, all of the complexity is "under the hood," and the user experience is straightforward and enjoyable. 
Following the instructions, the customer takes a photo of the personal document, and then takes a selfie. The system may require repeating a certain step, in case of poor lighting or camera resolution, which does not happen often with today's mobile phones. Since no algorithm is perfect, our approach includes a backup procedure. For a small number of cases whose processing is not fully automated, a system of additional processing by the operator is supported. With this combination, we get the best of both worlds: rapid identification with human resolution of disputed cases.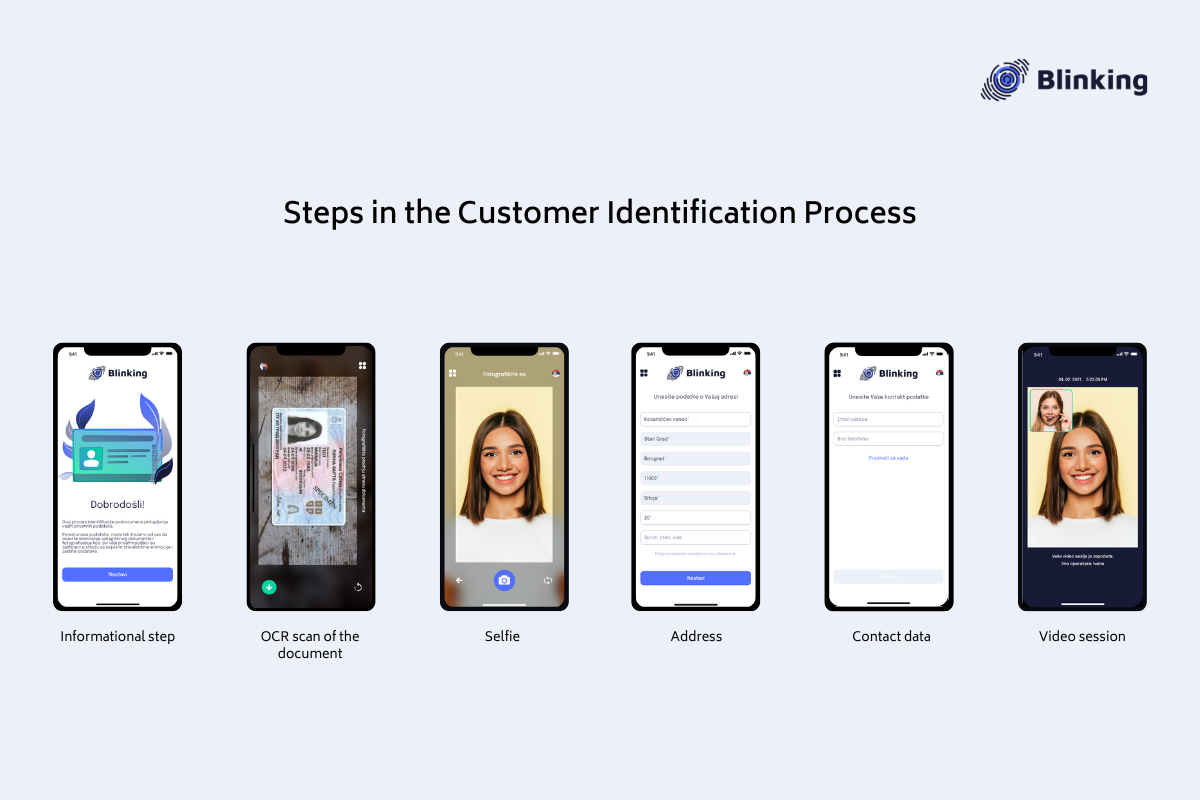 Image 1: Steps in Customer Identification Process
How simple is your solution to use, and what customization options do you offer? 
The quality of the remote customer acquisition solution is dependent on the quality of the user experience. The user identification procedure (while important and required) is also a type of regulatory burden that can have a negative impact on the user experience. That is why our top priority is for the user to be at ease, for the identification process to be as simple and even more pleasant than it would be in real life. Data processing is much faster with the help of artificial intelligence, and the amount of data entered manually by the user is reduced to a bare minimum. 
Blinking Identify Rapid is white-label solutions whose visual identity can be adjusted so that the customer does not feel that he has left the service provider's platform and which makes the whole process seamless and harmonious.
Can you give examples of companies that have improved their business with your solution? 
AIK Bank was one of the first major clients to implement our solution in their operations. The Bank transferred a large percentage of the products and services offered in the branch to the online space in a short period of time using the Blinking Identify Rapid solution (several months). 
All processes are automated, digitized, and integrated with the Bank's and third-party systems. Since the launch of that service, the online channel has grown in importance in the acquisition of AIK Banka customers. Following that, our solution was successfully implemented in a variety of industries, including telecommunications, insurance, financial services, and gaming. Our company currently has 25 large clients who use digital services to improve their businesses every day.
What are the main benefits of the cloud deployment model for organizations? As a software company, how do you see the future of SaaS solutions – is the demand for this delivery model increasing? 
Many aspects of modern business necessitate the use of technology. Companies are constantly forced to introduce technological innovations in order to improve their operations and maintain market competitiveness. This process, however, is not without its difficulties. 
One of them is the development and maintenance of IT infrastructure for the operation of software solutions used in business. When you consider the obvious shortage of personnel in the field of system engineering, it is easy to see why more and more businesses are turning to cloud services and SaaS solutions. These delivery models enable rapid integration and market entry. The cost of maintaining a complex infrastructure is distributed across a greater number of customers. This significantly reduces investments in new technologies and makes new digital initiatives easier to implement. Furthermore, working with a cloud provider ensures a high level of quality, service reliability, and security because the solution and background infrastructure are managed by a specialized partner. 
Cloud technology has exploded in recent years, and it is now used by both small businesses and startups, as well as tech behemoths. Traditional industries, such as finance and insurance, are also increasingly turning to the cloud.
What prompted you to decide to make your solution available to Mainstream Cloud users? 
Today's times demand that regulated industries turn to customers through online channels. This in itself is a complicated process. In addition, it is necessary to shorten the period of entry to the market through online channels as much as possible in order to offer the service before the competition. 
Mainstream Cloud makes it possible to significantly accelerate the introduction of new technologies – from the technological side as well as from the regulatory side. Mainstream provides all the necessary standards for the regulated industry and thus the procedure of obtaining approval from regulatory bodies for the introduction of a new service is greatly facilitated. An additional advantage is the integration speed, which enables the service to be placed on the market in record time.
Source: https://marketplace.mainstream.rs/od-saltera-do-digitalnog-onboarding-a-kako-blinking-identify-rapid-omogucava-akviziciju-korisnika-na-daljinu/