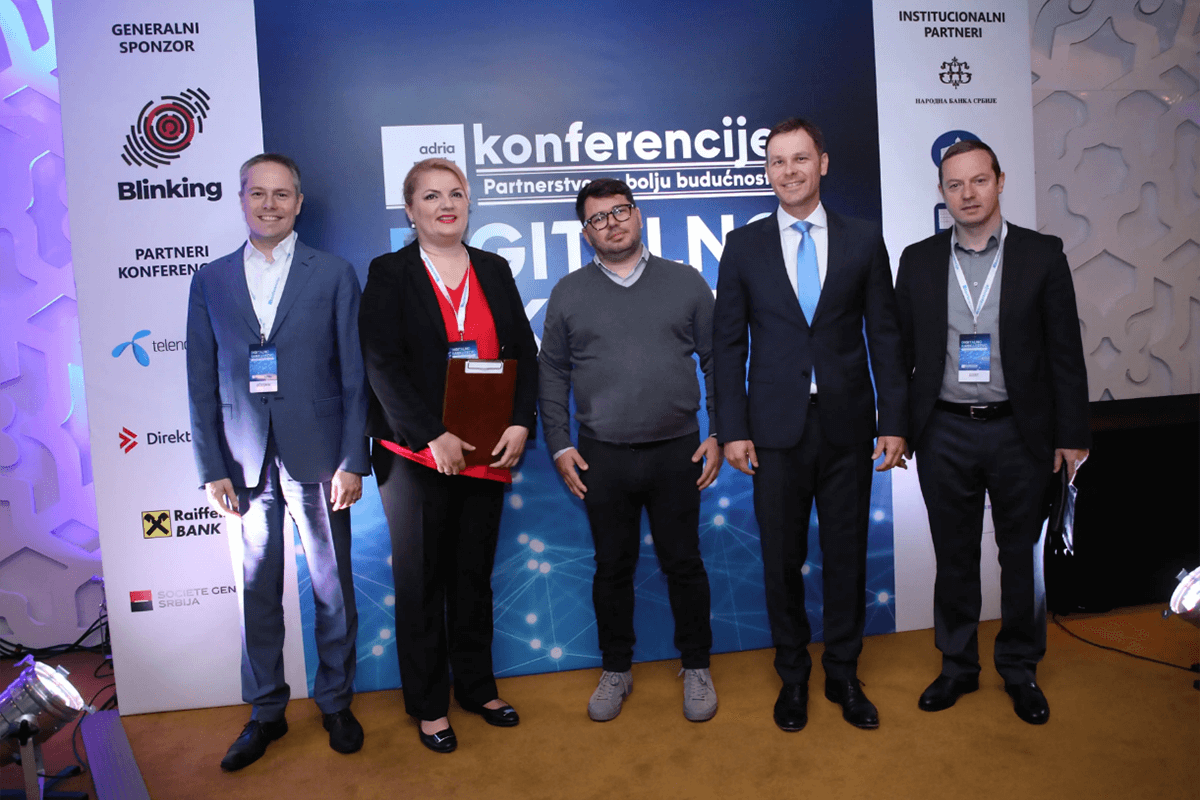 Digital Banking Conference Retrospective
Last month Blinking had the pleasure of being the sponsoring partner of the "Digital Banking" conference in Serbia organized by Adria Media Group. The event was co-sponsored by The Ministry of Finance of the Republic of Serbia and the National Bank of Serbia.
The main purpose of the conference was to initiate the discussion about the digitization of services offered by the banking industry between all the key stakeholders in Serbia from state officials and representatives of institutions, organizations, companies, and the media.
Serbia's Minister of Finance gave the opening remarks and talked about the current development and the state of economic affairs in Serbia. His emphasis was also on the importance of the innovation and digitization of banking services as one of the pillars of Serbia in the coming years. He also mentioned the need for further consolidation of the financial market.
Vice-governor of The National Bank of Serbia Dragana Stanić and advisor for the digitization of the Government of Serbia Nenad Paunović joined the opening remarks. Vice-governor emphasized the support and devotion of The National Bank of Serbia to innovation and digitization as one of its key priorities, while the Government's advisor expressed his pleasure that there are more startups from Serbia developing fintech solutions.
The event was divided into two panels:
Client onboarding in digital banking
Leaders of digitization in banking discuss future trends and the new era
Blinking COO and co-founder Miloš Milovanović participated in the first-panel discussion alongside Vice-governor Stanić, Srđan Zec, IT and digital banking advisor of the Association of Serbian Banks, and Prof. Ismail Musabegović from the Belgrade Banking Acadamy.
Miloš talked about the basics and potential of blockchain technology as well as some of the illusions people have about it. However, his main emphasis was on the key issues we focused on during the development of Blinking. He also talked about how Blinking can provide an entirely new banking experience for people in Serbia in their everyday interactions with financial institutions. The key needs to be fewer and fewer interactions and administrative burdens for citizens, which is not that hard to achieve by employing the right technologies. He especially remarked how there is a clear need to start creating new trends instead of always following them.
Panelists on the second panel were representatives of banks that are currently leading the race in the digitization of banking services, offering better or entirely new user experiences to the end-users — the citizens. Representatives of Raiffeisen bank, Société Générale bank from Serbia, Telenor bank and Direktna bank all exclaimed their devotion and readiness to innovate and improve their services through further digitization.