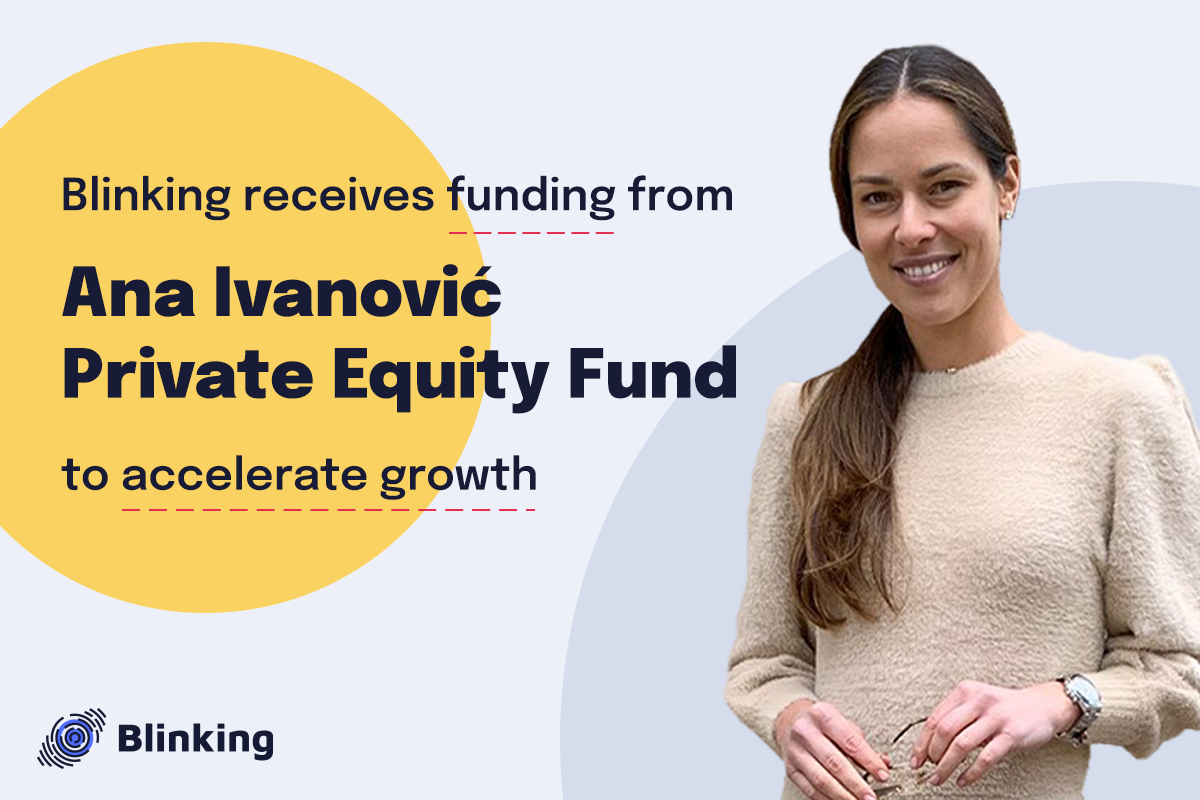 Blinking Receives Funding from Ana Ivanović Private Equity Fund to Accelerate Growth
Blinking today announced an investment from Ana Ivanović Private Equity Fund in their second round of investment that closed in 2020. Blinking is a software development company from Serbia with a focus and expertise in building and developing digital identity, identity verification, and data privacy solutions. Blinking was founded three years ago with the mission to create an innovative, trustworthy and practical software solution for digital identity management and the protection of personal user data.
Blinking is a digital identity platform built with a 'privacy by design' approach and principles. It is a multi-platform software solution designed for the creation, confirmation, and management of users' identities. Organizations relying on the Blinking platform receive a reliable, safe, and easy way of confirming their users' identity, while their end-users retain ownership and control of their own private data. Their digital identity management platform provides user onboarding, identity verification, and data & document management environment.
" I'm really thrilled to be a part of the Blinking team and this next phase in the company's development. Establishing a strong regional foothold and conquering new markets is key and I am delighted to be able to help them on this journey. I've had the pleasure to meet and talk with Miloš and Miroslav and the team they assembled which is truly amazing. As every champion very well knows, the success of any and every endeavor depends primarily on the strong and cohesive team you succeed in getting together and is never an individual effort. I have a strong opinion regarding the challenges Blinking is trying to solve, namely data privacy and protection are becoming one of the key questions in our connected world. We partnered to bring their amazing solutions to the world. " – Ana Ivanović
Miloš Milovanović, one of the co-founders of Blinking has thanked Ana for her trust and belief in the team and solutions they are developing – " It's with truly a great pleasure that we can officially announce we partnered with the former world champion and one of the greatest tennis players in the world Ana Ivanović! Ana became part of our team over the last year. 2020 has proved to be a big challenge for the world. With the help from Ana, we managed to dodge those 2020 challenges. In fact, the investment came at a crucial moment for us. After several successful international and domestic POC's and pilots, we were on the track to securing numerous corporate clients on both domestic and foreign markets. Our product and company actually got the trust of even more clients from financial, telecommunications, and gaming industries by the end of the year, and we definitely owe that to Ana's support."
With support from Mrs. Ivanović, Blinking has not only managed to avoid the challenges of 2020 but has in fact thrived. The company has used the investment to speed up the technology development with additional standalone solutions alongside the Blinking platform. At the same time, during the year Blinking has hired several new engineers to their team. The company is on the lookout for more talent, with several more positions being opened at this moment (check out here).
This has been a great year for Blinking. This partnership ensures that solutions for secure digital identity and client onboarding become mainstream and questions of data protection and privacy start being addressed both in the SEE region and Europe.