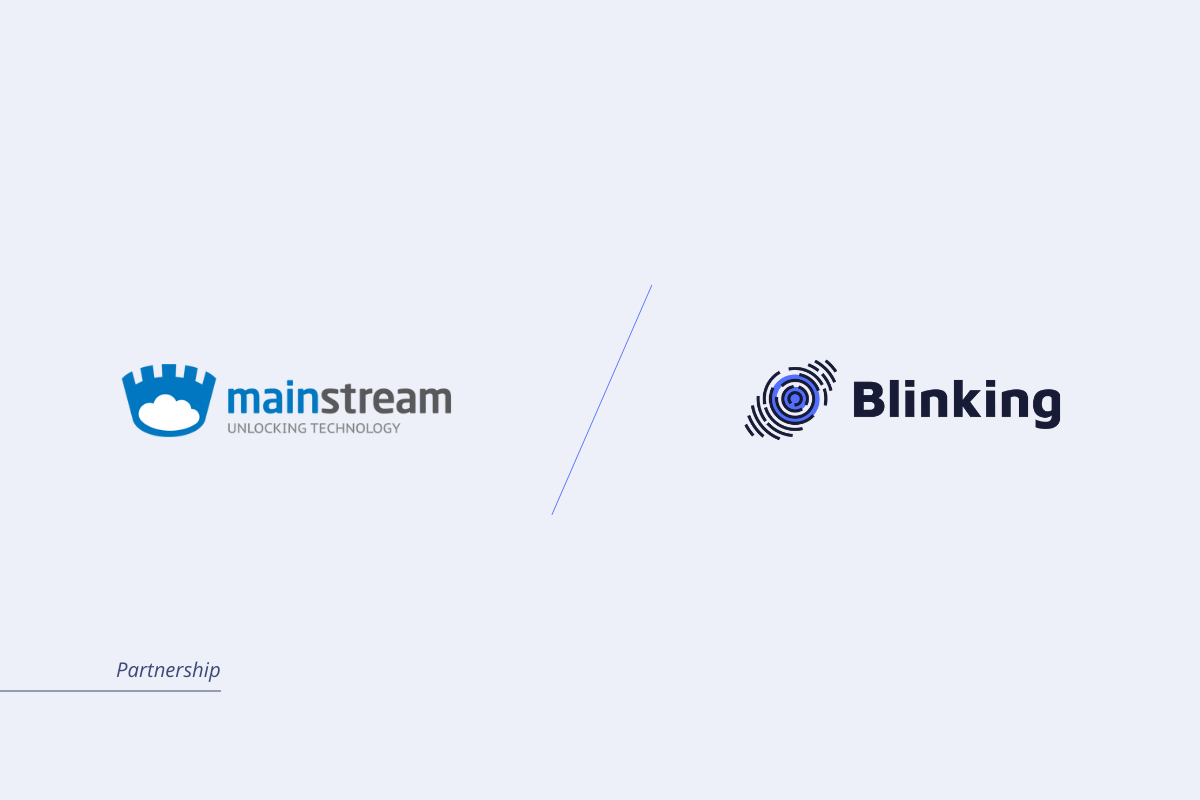 Blinking Launches Off-The-Shelf Onboarding Solution, For A Variety Of Industries, On The Leading Marketplace Mainstream
Blinking, a provider of digital identity and user onboarding solutions, is partnering with Mainstream, a forward-thinking technology firm focused entirely on the Cloud, to offer a turn-key onboarding solution tailored to a wide range of industries and business requirements. Blinking has launched Identify RAPID as a one-stop shop onboarding solution to help businesses around the world on their path to digitize their offerings.
Blinking is the provider of a robust digital identification platform built with the "privacy by design" principles featuring multi-factor authentication, as well as KYC and AML checks. Companies that use the Identify RAPID platform benefit from a reliable, secure, and simple method of verifying the identities of their customers. Businesses may create complex products while contracting services remotely. Our solution employs powerful artificial intelligence algorithms to prevent identity theft and fraud. Together with a Mainstream marketplace, reliable and high-performance infrastructure for hosting business applications, Blinking will enable faster digitalization and growth for businesses with perfected cloud experience. 
Key advantages to in-house solution: 
System is set up from zero, raising the level of security 

Equipment is hosted in professional data centre, by the highest standards 

Flexible infrastructure, concerning resource increase 

Highest level of security, isolated system 

Monitoring, support and interventions 24×7 

Possibility of snapshots of the machines and creating a staging environment – non-SAP

services 

Access to the system through an encrypted connection
Mainstream Marketplace brings together vendors and buyers of software, providing companies with an easy way to find, purchase, implement and manage the applications they need to digitize their business. In partnership with local and international software manufacturers and relying on Mainstream's state-of-the-art infrastructure and cloud experience, the Marketplace platform provides added value to its users:
Reliable, high-performance infrastructure for hosting business applications

A catalogue of software products for for SMEs and enterprises

Ability to select the right cloud platform based on application needs.

Faster business and IT transformation with easy to deploy cloud solutions

.
"We are excited to welcome Blinking Identify Rapid to our Marketplace. The idea behind Mainstream Marketplace is to enable faster digitisation and growth through partnerships. By adding Blinking to our portfolio, we can offer our platform's users a robust digital onboarding solution that will allow them to grow their business securely while at the same time leveraging the benefits of cloud-based software," said Aleksander Nedeljkovic, Mainstream CBO.
One of the main benefits for Blinking is the reliability of Cloud infrastructure, which guarantees the solution's top performance, as well as the compatibility of our customers and expansion plans – Blinking, like Mainstream, is expanding in the region. This type of collaboration is critical for both companies since it has a huge amount of potential.