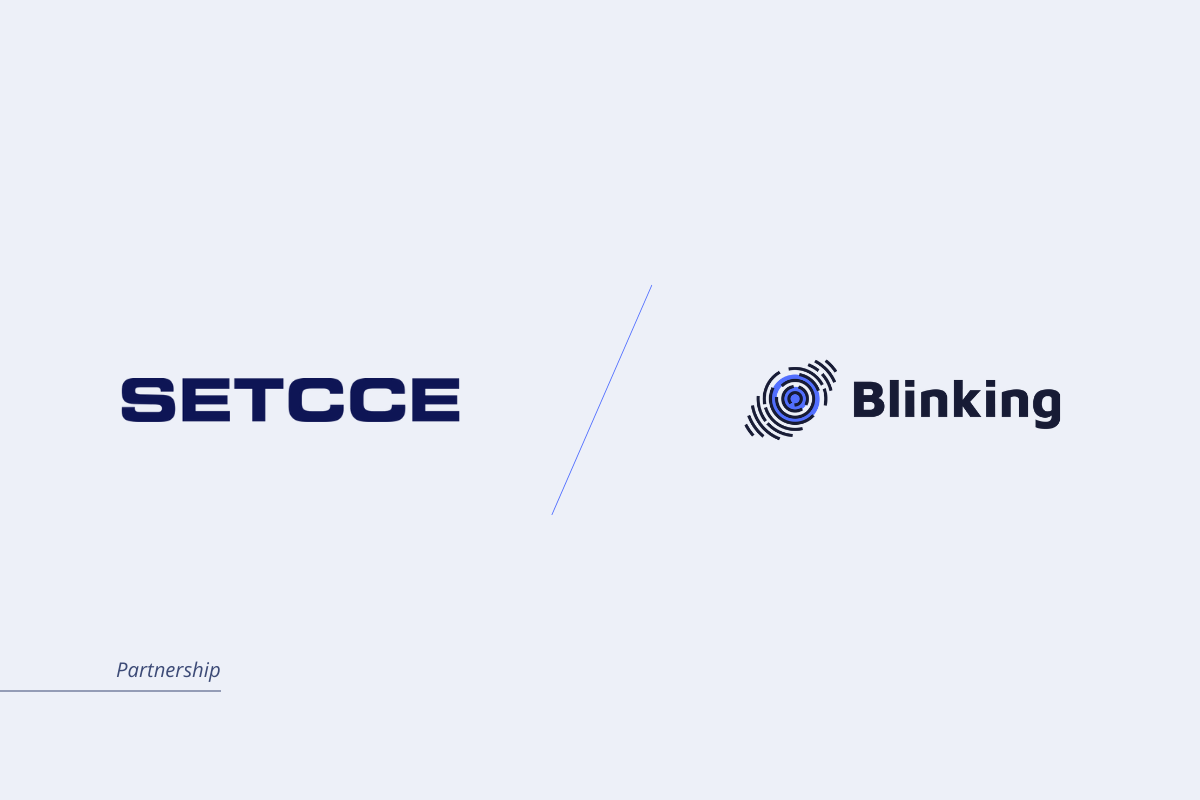 Blinking and Setcce:
Identify, sign and keep, a full service model
Blinking, a provider of digital identity and customer onboarding solutions, is partnering with Setcce, a high-profile global Digital Transaction Management company, to strengthen the security of digital document signing. The collaboration between these two companies provides a unique workflow for the customer – one process which includes video identification, verification of customer's identity, and e-signing of documents. 
Remote, online processes are present, not the future. The focus of successful companies' shifts from paper documentation to digital documents. Companies are looking for new, more innovative business methods that are seamless, efficient, and accessible from anywhere. Blinking and Setcce formed a partnership to follow the trends and meet market demands.
Blinking is the provider of a robust digital onboarding platform built with the "privacy by design" principles featuring document verification, video identification, as well as KYC and AML checks. Its goal is to provide a one-stop shop for online products and processes with maximum security for businesses while removing unnecessary, repetitive due diligence required from users each time they want to use a new offline or online service. In cooperation with partner company Setcce, the service now has the ability to manage signing of documents and continue with regulated archiving. We should not overlook a very important part of the system – Automated contract creation and form filling, which reduces manual work, saves time and contributes to a better organisation of employees within the company.
"Setcce is a high-profile global Digital Transaction Management company that has been delivering DTM services for over a decade, supporting its clients to implement digital business with advanced e-document and e-signature solutions. Setcce has managed to build a strong customer base from telco, financial and automotive industry, from retail, utility, and manufacturing and from public administration. With continuous development of user friendly, secure and legally compliant digital tools, finely tuned to customer needs, the company has gained a leading regional position through partnership and integration with complimentary services. Digital on-boarding plays an important role in end-to-end digital business and Blinking video identification solution is a natural fit for Setcce e-signature services helping even the most demanding businesses support customer facing processes through digital channels. We believe the cooperation is a major milestone for digital business in the region", said Aljosa Jerman Blazic, Setcce CEO.
Setcce's new solution BetrSign® will shift business into a higher gear by spending less time on paperwork and more time on what matters. It is a web and/or mobile application that helps you prepare documents for signing, submit your documents for signing and sign your documents remotely or at point-of-sales digitally. You can sign anywhere and anytime, using your laptop, smartphone, or a tablet. Make sure to get the best terms written down using existing tools and BetrSign® will take care of the rest. Setcce's customers appreciate deep understanding of business needs, resourceful experiences and information security that helped them design state of the art DTM services in different industry sectors in a reliable, secure and legally compliant manner, leaving no room for error.
"Blinking established itself as a leader in digital identity solutions and pioneered a completely fresh approach to building online products. By combining building blocks of interaction with customer, client and third party systems one can create any simple or complex online product or offering. In cooperation with Setcce, information and data acquired using a high usability interaction system in combination with advanced artificial intelligence can be materialized as contractual documents, signed by end users and archived for safe keeping. This will enable a whole new level of service essential for digital transformation of regulated industries", said Milos Milovanovic, Blinking COO.
Nowadays, businesses try to complete agreements fast, on schedule, and regardless of location. Printing, signing, scanning, or visiting the branch are all part of the past. Negotiating a contract is difficult, but the process of conclusion and signing one should be convenient and secure with our joint identity proofing and authentication seamless service. Together we can now protect important agreements and improve customer experience.